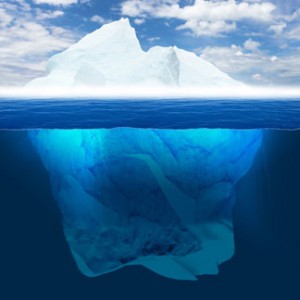 Search Philosophy
Using the metaphor of an iceberg, our observation is that most firms hire from the twenty percent of the candidate universe that is the most visible and the most in need of a new position. We have also observed that most organizations hire based on initial interviews and cursory impressions that reveal only about twenty percent of the information needed to make an optimal long-term hiring decision. Our belief is that systematically exploring the remaining eighty percent that is below the surface greatly improves the probability of an outstanding long-term outcome.  
Approach
We work directly with you to tailor a search strategy to your specific focus and desires. Depending on your preferences and time dynamics, we may suggest our High Definition Search approach, our streamlined Express Search approach, or something in-between. Working in collaboration with you, our solutions are usually on a direct hire basis; but depending on the situation, we may suggest an interim or interim-to-hire solution.
Background
Founded in 1987, Gibson Johnson helps organizations identify, attract, and retain superior candidates for leadership and professional positions.  
We have extensive depth from placements in information technology, accounting, operations, marketing, and the other key functional areas.  We work with Fortune 500 companies, mid-size businesses, healthcare, non-profits, universities, schools, and entrepreneurial firms.  
For clients who choose our High Definition Approach, a Gibson Johnson partner will be your client interface person and will be the person actually executing the search, thereby assuring a carefully crafted and high quality experience from beginning to end.
Organizations engage us when they want to reach the hard to find candidates and value an in-depth match. Over 90% of our work is repeat business. The common thread is clients who want to know and understand who they are hiring, who value fit, and who have a long-term view.   
Values and Value
It would be nice to get credit for good intentions, but when it comes right down to it what counts is what we do. It is the virtue embedded in our behavior, not the collection of creative phrases in a mission statement, that sets us apart. The values below represent the core on which we have built our business, and our success for more than twenty-five years is testimony to their merit. 
Excellence in work product
Authenticity in relationships
Intelligent use of resources
Return on Investment
Commitment to the long term