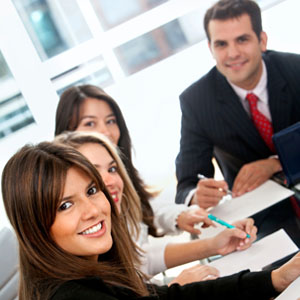 My experience with Gray Johnson and Gibson, Johnson & Company has been completely positive. In my estimation, what sets Gray apart is his integrity. Gray understood my business and customized his approach to my specific needs. I got a thorough approach to what I needed. Because he is presenting only highly screened candidates, it is a great time saver for me. I have used Gray again and again over many years. 
Director of Information Technology
Software Development Company with over 100 Employees
I've used other search firms in the past, but I didn't get nearly the same customer service and results that I got from Gibson Johnson and from Gray. I had high expectations, and Gray certainly met them. Gray was very careful about making good use of our time. He didn't waste our time or send people that didn't fit. He took the necessary time, not too much and not too little, getting to know us and the environment, and he listened carefully to our goals and desires. I know he cares about the long-term outcome because he has demonstrated it.
President
Multi-Generational Family Business 
Gray Johnson listens on the front end, follows up after each interview and again several times after he places someone with you. You can spin your wheels and spend extra money, but Gibson Johnson's High Definition approach is the most cost effective and time effective I've experienced. I found out that Gray is flexible in his methods in fitting the timeframe and thoroughness to the situation. Gray impressed me with his reference and background checks on each candidate. I'm confident that the candidates he has placed will be with us for the long haul. He has taken time to understand the makeup of our business and the personalities of the key players. Without this understanding all else is a shot in the dark.
Chief Operating Officer
Professional Services Firm founded in 1984
As far as diligence and focus, Gibson Johnson is one of the two top search firms in my book; all the others are far below. They work to earn the long-term relationship and have certainly earned it with me.
Senior Director of IT
International Risk Management Firm with over $2B in Revenue
We have used Gray Johnson to fill in a number of key leadership roles in our company, including a CFO and COO. Gray does his homework very well and does not just "throw" candidates at you. His top three candidates are tightly screened and of high quality. It does not stop with the placement. He stays in touch and makes sure all parties involved are happy. This is rare; most companies do not put as much care into finding the best fitting candidates and as much care for the long-term relationship. I worked directly with Gray, and he performed the leadership searches for me himself.  I like the direct approach/contact very much. There is no 'noise' on the line! 
Chief Executive Officer
International Real Estate Investment Company
I have relied on Gray Johnson many times to source and place quality candidates within my organization. I most appreciated the integrity Gray brings to the recruiting relationship, and I knew that he would live up to his commitments and stand by his work. People like Gray are a rare find when working with placement firms. Gray's top qualities are great results; he is personable; and he has high integrity.
Vice President 
Electronics Company with over $2B in Revenue
The quality of candidates was much better through Gibson, Johnson & Company. We worked with Gray and as a comparison, the least qualified candidate he sent was better than the best-qualified candidate sent by others in previous searches. He is professional and operates differently from other recruiting firms - they don't do the qualification of candidates and make my life easier like Gray does. He was always timely and followed through on commitments. 
Global Director of IT
Manufacturing Company with over $130M in Revenue 
We have used Gray Johnson many times during the last twelve years to find the right person for our team. Each time Gray quickly found an individual with precisely the right qualifications and at exactly the level of experience that fit our budget. He handled the search, the screening, and the checking of references, making the entire process of getting the best person easy from our perspective.
Chief Financial Officer
Privately Held Holding Company